Chambéry
3rd of May, 2020, Covid-19 has been hitting hard the last 4 months and restrictions are getting raised now, two months have passed since I arrived to Chambéry. My sister is living in Germany and the idea to visit her came to my mind. Why not? I'm here just working and enjoying the city but it's been two months, I should go.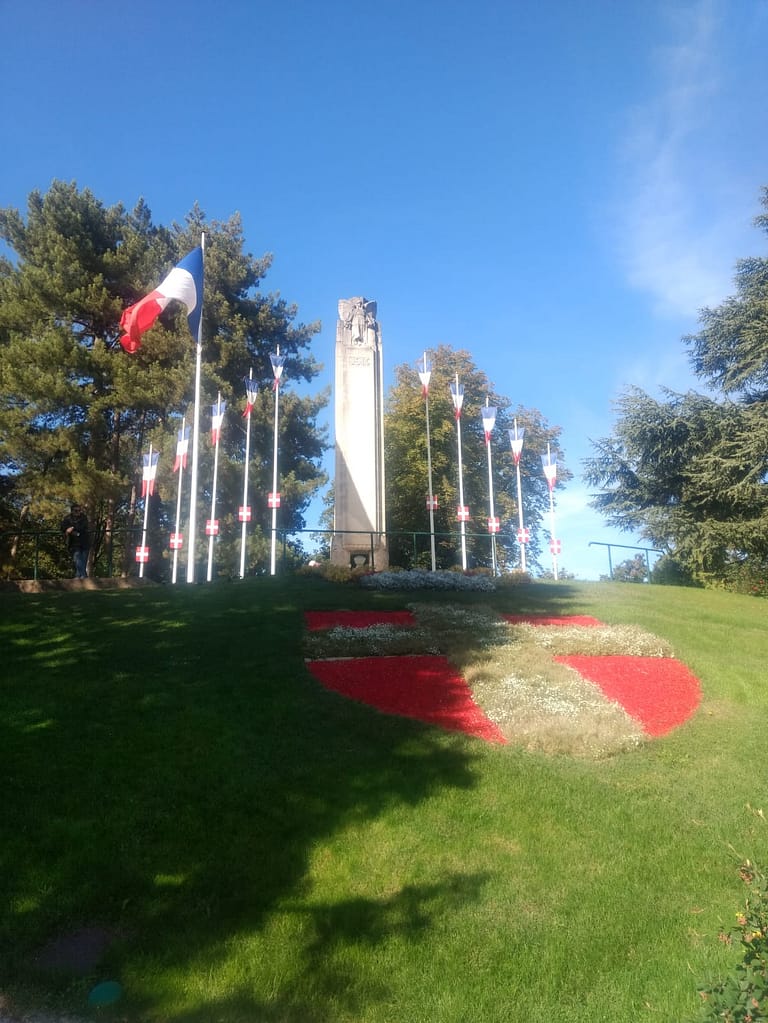 The plan is to take few days to reach Frankfurt, visiting few French cities in the meanwhile and discovering new places since the distance from Chambéry is around 800km (this is very long distance here in Europe!)
It's Tuesday morning and I'm getting my things ready. The owner of the apartment where I'm staying sold it, few days earlier she was coming to remove things from it. In the bedroom there's only a small wooden table, the queen size bed and the wardrobe, besides that, nothing… She's kicking me out slowly.
I've got a train ticket to my first stop in this trip, Lyon. A little bit more than 100km, quite short trip. Two days ago I made a reservation in an AirBnB, a bedroom in an apartment, the owner is a French guy who has extra space and he rents it. (This is very common in Europe, people renting bedrooms in their home)
---
Lyon
Just arrived at the train station, the face mask is bothering me way too much, I have never used it for a long time and taking it off is a huge relief. I've agreed with the AirBnB owner that I should be at his place around 6 pm and it's 11 am, shit, the following hours will be SUPER long!
To spend some time I go to a coffee shop in a corner near the train station. I browse the internet, read some interesting things until they kick me out because they have to close. I asked them: "Can I please stay inside until you come to open again?" but of course they refused (what was I expecting?).
1 pm just arrived and I don't know what to do. I go for a walk carrying the heavy suitcase along with an even heavier backpack until I found a small park. Not even 20 minutes have passed and I'm wandering the city with no fixed destination again. Time to go back to the park, it's near the apartment.
I have a work meeting at 3:30 pm and I'm still at the park. Cars passing by, kids playing, a mom is yelling at his kid because he's climbing a tree, pretty loud environment to have a meeting.
I turn the laptop on just one minute before the meeting starts, battery is not the best thing in the laptop, it won't last more than 2 hours, I have to be quick. The meeting is kind of short with me trying to be muted as much as I could.
Around 5 pm I got a call from the apartment's owner, he managed to leave work earlier and he's heading home, yeyy! I walk to the apartment, not more than 500 meters from the park, easy to find.
An old building in front of what it looks to be an old hospital. We shake our hands (should not be done during Covid times! but I remember that after I did it… too late bro!), we take the stairs and he explains me how everything works. I go to the bedroom, leave everything there and I'm thinking "should I get a shower now? Nah, I've been traveling for 2 hours only, let's do it later" but I should. Did I take a shower then? Hell no! (but I did it later, did I?)
Time to get some food, there's a supermarket close to me. I've got groceries to make sandwiches, drinks (non-alcoholic) and I head back to the apartment. I have some work to do but first let's make a sandwich. It's 12 pm now and I feel tired, I'm going to bed, my plan for tomorrow is to rollerblade the city (yes, rollerblades go with me wherever I go).
A new day has arrived. It's pretty warm and cloudy. Clouds will never stop me to go out for a ride. I take my rollerblades and I put them on at the step next to the apartment's building. Yeah! I love this feeling! Riding on a city I've never been before, there's no much traffic on the streets, cars don't honk at me when I'm riding, it's such an amazing feeling!
Riding without a route I found what it turned to be the main river in Lyon, it's called Saône River (didn't know there was a river, I should check online what to expect from a city before going there but I don't like it). I keep riding to the main walking street until I found a place where many skateboarders are practicing. I love to watch skateboarders doing tricks, because I consider it a extremely hard sport.
Here are some pictures (not good ones to be honest):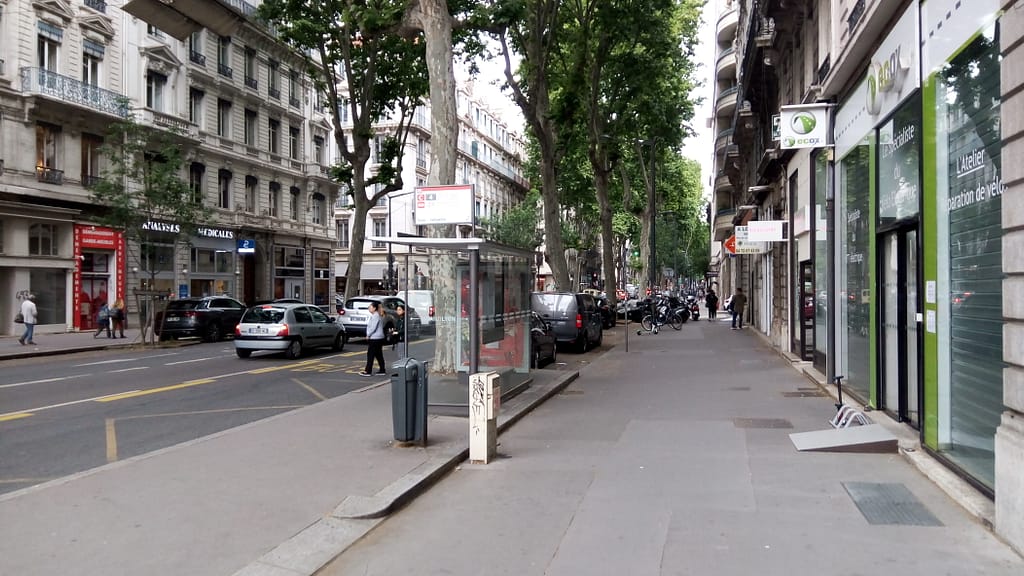 The day has been amazing, thanks to the rollerblades I can travel almost all around the city in few hours. I went to a huge park, I saw a very old church, I rode along the river, the whole city is very nice and what I realized is that it's very similar to Buenos Aires. Time to go home to catch some rest.
The sun has risen once again, time to go rollerblading! It's a little bit more cloudy than yesterday, but what the heck, I love rollerblading. It's getting darker and darker because of the storm clouds, when suddenly it started to rain, but very heavily, I had to stop at the entrance of a building to take cover from it. 15 minutes later it doesn't stop but it rains very slightly now. I'm heading home as I can, rollerblading on wet floors is like steeping on eggs! And I managed to get safe to the apartment, now it's time to take a shower, I swear I did take a shower that time!
Time to move to the next city in the itinerary, Dijon.
---
Dijon
From Lyon I took a train straight to Dijon.
Trains in France are pretty expensive but they are always on time and super comfortable. The
ticket from Lyon to Dijon costed me around 60€
Prior to the trip, I booked a bedroom on the outskirts of town, the only one available in Covid times. The owner called me right away to know when I'm coming and to let me know she can pick me up from the train station (such a lovely woman!) but I told her I'd like to walk there to know the city a little bit.
The train took around 2 hours to arrive to Dijon, not too far away. By the way, the trains are so smooth, you can barely hear something from the outside! And yeah, of course they are electric.
I just arrived to Dijon's train station, the weather is super nice, warm but not hot, clear sky and a lot of people passing by. I stopped for a moment to look for a WiFi network so I can know exactly where should I walk to find the apartment. Yes! I just found a free WiFi network (I mean, nothing is free, they are gonna steal some data from me, of course) and checking on Google Maps I realized the apartment is like 3 km away, damn it!
I start to walk slowly thinking why did I say no to the lady to pick me up, but what can I do now? Too late, let's walk and enjoy the city. The area surrounding the train station is really beautiful! I'm heading to the city center now but I should hurry a little bit since the owner is leaving the apartment before 6 pm and it's around 5 pm right now.
Alright, let's find a bus to take me near the apartment. Find it right away and I'm heading to the bus stop. If I'm not wrong, it was bus #71.
In every bus stop you can see how long it will take for the next bus to come. This is awesome!
The bus arrives, I get in and in my basic French I ask the bus driver what can I do to get a ticket. He explains me and I need to buy it in the bus stop. I didn't know it, and I'm already in the bus. He also tells me I can travel without a ticket but if someone from the company gets in and check for tickets, I'm gonna be screwed. What should I do? Get down, get a ticket and wait for the next bus? Or should I take the risk and stay in the bus? What the heck, let's take a chance, I'm staying in the bus.
I'm all nervous, not shaking but close enough. I'm thinking that every person coming in is an inspector which will ask me for the ticket. Luckily, no inspectors in the whole route. 15 minutes later, I arrive to the bus stop and I go off. Do you believe me if I tell you there is an inspector waiting for the bus? When I'm getting off of the bus, I see him going in. I was like: Hell yeah! Perfect timing!
Here's a picture of the city center:
I'm calling the owner to see where the apartment exactly is because there are many buildings around here. She comes out and waves her hand. I see her and I go to meet her. We go to the apartment and she explains me all the rules (yeah, she has rules because of Covid).
Some of them are:
.- Clean your hands when entering the kitchen and before leaving it
.- Everything has to be clean when you leave the kitchen
.- Use as less water as you can when taking a shower (not related to Covid)
.- Put alcohol gel on your hands every time you can
I'm not used to following many rules but it's not my home and I should adapt, right? I go to "my" bedroom, it's comfortable, nice bed, nice lightning and I even have a desk to work on. Sweet!
I'm gonna be here for a week.
The next day is amazing, sunny again and perfect temperature. What should I do? Of course I'm going out rollerblading all over the city! As I mentioned before, I'm around 3 km from city center. By foot is a long distance but rollerblading is not. I also found there's a lake near the train station, let's visit it.
Rollerblading to city center on the streets, every one is looking at me (I guess there are no many riders around here) when I found a tank, yes, a real tank, on a corner:
I tried to get in but it was closed. It would have been nice to shoot some rounds, don't you think?
Dijon is the famous city where the mustard come from! Check out the following link: https://www.britannica.com/place/Dijon
The week goes smooth, rollerblading, enjoying the city and the good weather and now I have to find where I'm going next. Checking on google maps, Strasbourg is in between Frankfurt and Dijon, let's go there!
But not now, let's keep it for the next post. I hope you have enjoyed it as much as I have enjoyed writing it!
Check other posts!