Being in France for over an year has been an amazing experience but it's time to leave the country. Reason? Again, visa expiration date is coming soon and a new destination is required to keep living this kind of life, and again, going back to Argentina is not an option.
---
Montchavin – Landry
First days of December 2020, knowing the visa is going to expire in 31 days I'm heading to Préfecture de la Savoie trying to get another extension of it (I've got two extension before, first one for 3 months and second one for 2 months and a half) but it was denied and I have to leave the country in few days.
The extensions were given to me because of Covid-19 restrictions, it was hitting hard the country and the entire European Union.
Time to search for an open country which will allow me to stay as a tourist for 3 months. First one in list: Bosnia. New destination has been chosen, I mean, why not? A country I've never heard a lot before, different culture, located in the Balkans, what could go wrong?
Before this, I decided to spend Christmas in Paris. One of the cheapest way to travel in Europe is by using BlaBlaCar (it's a platform in which the driver post a trip setting an amount of money per person from one city to another. People can go to the app, search for trips and reserve a seat immediately). I just found one, from Landry, in the French Alps, to Paris, direct trip, non stop. 30€ and I'll be there in 8 hours top.
The day has come, 8am, it's cloudy and it looks like it's going to rain, Mike and Sandra take me down to Landry and we talk till the BlaBlaCar comes.
Mike and Sandra are an Australian couple, I worked with during winter 2019-2020 in Montchavin. Amazing cooks and such a beautiful people! But this is for another story.
BlaBlaCar is coming, it's a big truck, I think it was a Renault Master or similar. It stops next to us, the driver gets down, I put my things on the back of the truck and I'm ready. Before jumping into the truck, I say goodbye and I give a massive hug to Mike and Sandra since it could be the last time I see them (They were going back to Australia soon). I get into the truck and I sit as the co-pilot, we are ready to go.
We are on our way and we stop at Moûtiers to pick up a guy and a woman whom are coming with us. From now on, non-stop to Paris.
---
Paris
The trip has been amazing, we are entering Paris but I can not see the Eiffel Tower, where the hell is it? It's an iconic place, it has to be visible from everywhere! That was in my mind, but it turns out Paris is freaking huge city and we were near the airport. You can not see the Eiffel Tower from there not even using a telescope, silly me.
Long story short, I went to see the Eiffel Tower the following days and it's still there, it hasn't move yet. Here it is! (The picture looks so professional! I swear I took it)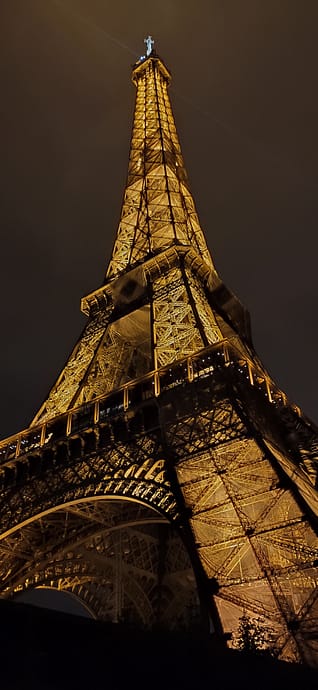 I spent few days in Paris, I'll keep it for another story.
The flight is taking off from Lyon in 4 days (today is December 27th 2020). Now, how do I go from Paris to Lyon? Of course I'm gonna take a BlaBlaCar, I mean, it's cheap and works super good, that resumes everything!
I found one right away leaving tomorrow at 9:30am. I pack everything again and get everything ready for tomorrow.
Today is the day, come on Emmanuel, you can do it! I go to the train station to catch the train which will take me to the BlaBlaCar meeting point. The car is taking longer than the agreed time to meet but it's okay, I'm in Paris, heading to Lyon, everything is fine but cold as hell (not exactly hell…).
BlaBlaCar arrives, a small car already full with people and bags. It stops next to me, the driver opens the boot and we had to get everything out to make space for my suitcase. Imagine playing Tetris but with suitcases, bags, backpacks, shoes, snow boots, many things. Alright! We managed to fit everything in, let's start the journey!
---
Lyon
It's raining, traffic jam, cars honking, yeah, I don't miss big cities at all.
Prior to traveling to Lyon, I made a reservation in AirBnb for a small apartment where I'm going to spend the following 3 nights, near the train station and kind of away from the city center.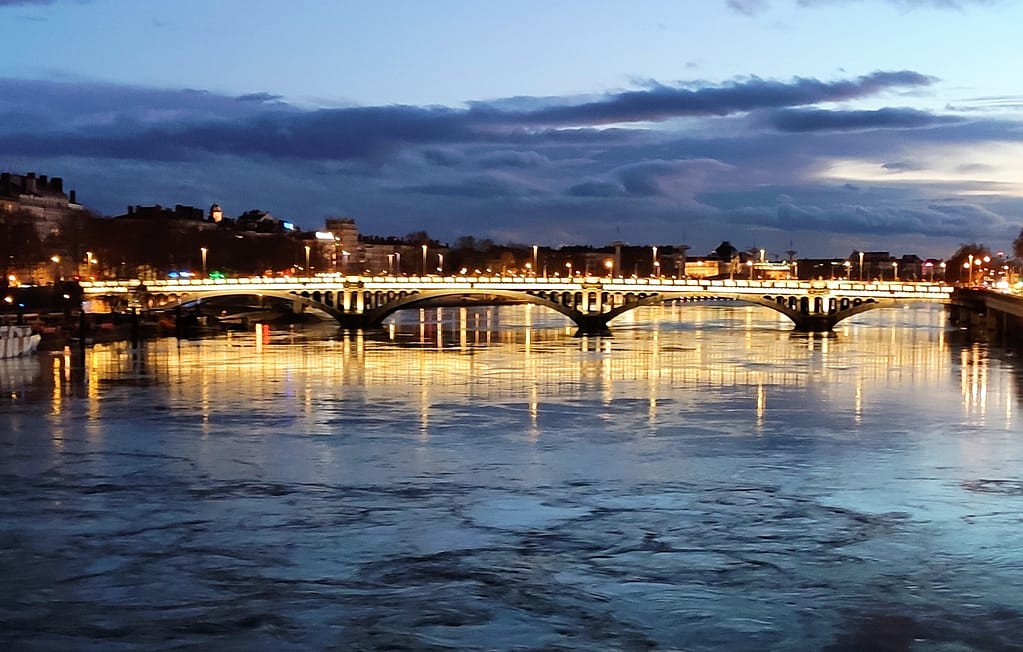 BlaBlaCar drops me nowhere near the location of the apartment. Rain was super light and I'm wondering: "should I get a cab?" No way, let's walk, let's know the city a little bit more.
Walking through the city many memories from Buenos Aires are popping up in my mind, it looks very similar, streets, sidewalks, buildings. Very interesting.
Funny fact: I sent a picture of the city streets to my friends in Argentina and they were asking me: "Are you in Buenos Aires? When did you arrive?" Nope, it's Lyon and it's very similar.
Walking over and hour, checking the GPS every once in a while to make sure I'm in the right path, when I finally arrive to the apartment. All sweaty and tired as hell because the suitcase is freaking heavy but the wheels were working fine!
The owner of the apartment sends me a code over SMS to open a box in which the door key is.
I enter the code, the box opens and there are 4 keys.
Now the question is: which one is the right one? I pick the first one, walk to the door, try it and… no, it's not the right one.
Second one, same. Come on, it has to be the next one… third one and it's not! Damn it! There's no way the fourth one is not the right one. Let's give it a try… no, it's not… Just kidding, the fourth one was the one. The key must have felt like Neo in the Matrix: "I'm the one!"
Finally in the apartment, small but cozy. It had all I needed for 3 days. Small kitchen, big bed, pretty small wooden table to work on, wifi and an empty fridge (I prefer a fridge full of things to eat, but fair enough).
Time to rest, it's been a hell of a day. I set the alarms off and get ready to sleep, tomorrow will be a new day.
I woke up around 11am (yeah, I love to sleep), turn on the laptop and start searching online what do I need to travel abroad in Covid-19 times. A negative Covid test is needed to get into the plane and also required to enter Bosnia.
But first, let's get breakfast. Well, not exactly breakfast, it's around noon and I haven't had anything to eat. I got ready and I went for a boulangerie. I'm in France, of course I'm gonna get few croissant! Back in the apartment, I prepare mate and let's have a "brunch" (I think that's the word for a late breakfast).
Now it's time to search where can I get a negative Covid test certificate. Negative? Who said it's going to be negative? I hope so!
I've found a place almost at the other side of the city. In the webpage it says they get the result in few hours. The flight is taking off in 2 days and the certificate has to be less than 48hs before taking the plane. No need to do it today, let's wait until tomorrow.
Sun is rising and that means a new day has arrived (of course I was sleeping by then). It's very cold and cloudy today, I guess I'll have to use long underwear (I'm not that old! I swear!).
I've arrived to the clinic where I'm going to take the Covid test:
Staff: Bonjour, Comment puis-je vous aider?
Me: Je parle très peu français, parlez-vous anglais?
Staff: Yes, how can I help you?
Me: Great! I'd like to take a Covid test because I have to take a flight
Staff: Sure, when do you need it?
Me: Now, the flight is leaving tomorrow noon
Staff: Oh shoot! (checking the computer) Okay, come here in two hours and we will do it
Me: That's awesome! See you soon, merci beaucoup!
I go to take a walk next to the river while making time for the appointment, there was no need to go back to the apartment since it was too far away.
Back at the clinic, a lot of people were outside waiting in a line to get tested. A staff member sees me outside and she calls me in: "come in, you don't need to wait" Alright, let's go.
I go to a small room, the nurse comes and I'm getting nervous since it's the first time I'm going to take a Covid test. She says: "Lean your head back" and she puts a very long stick in my nose, I could feel it was touching my brain! It doesn't hurt but it bothers me so much, I feel like sneezing for 15 minutes straight, damn it!
Alright, it's done, now let's wait for the results. Many questions were coming to my mind: what if the test is positive? If it's, my visa is going to expire and I'm not able to leave the country, should I go to the police? and many more but no need to worry, everything is gonna be alright.
I leave the clinic and with no route, I go for a long walk through the city. I stop at a corner, I look back and I see something marvelous! A massive mural: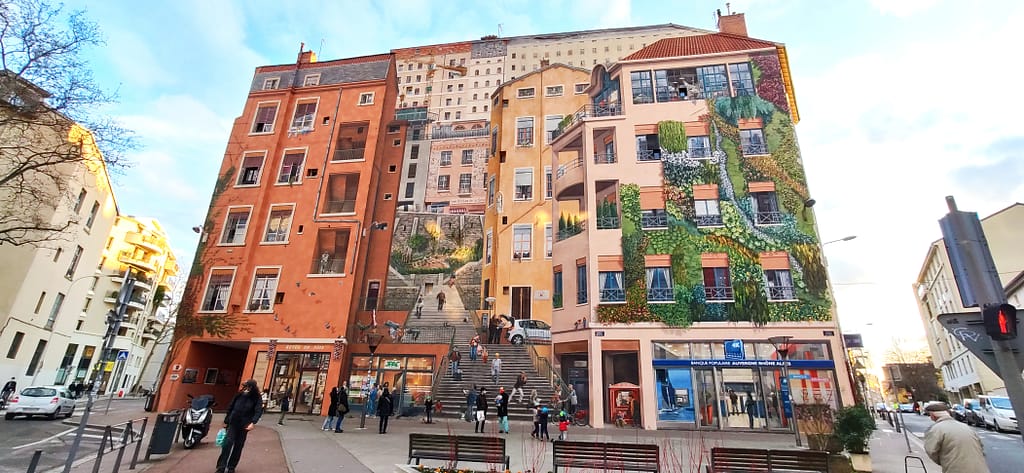 It looks real, doesn't it?
After searching online, I found it's the biggest mural in Europe! Beautiful!
More info about the mural here: https://www.lyon-france.com/je-decouvre-lyon/sites-et-monuments/Sites-et-monuments-remarquables/fresque-des-canuts
---
The day has arrived. I wake up around 9am (that's very early to me!) and get everything ready, again. There's a tram which takes me directly to the airport and it's very close to the apartment. I lock the apartment's door and proceed to leave the key in the box (the freaking box! and the freaking key!).
Waiting at the tram station I go to a machine there to get a ticket. I buy it and I wait for it to come. 30 minutes later, I'm at the airport looking for the gate to take the plane. Check-in was already done, I just have to leave my suitcase and go trough customs. Custom police couldn't find all the hidden things I had so I'm good to go (just kidding, I will never do that, will I?)
Note: The normal tram ticket is around 2€ but the one to the airport is around 14€ one way
Oh, I almost forgot to mention that the plane has a stop in Istanbul for 18 hours, lucky me!?
---
Istanbul
The flight was kind of short, I enjoyed it a lot. Here are some pictures:
After getting off the plane I head to the transit area of the airport looking for the company office which sold me the ticket since I have to take another plane in less than 24 hours. Found it very easily, I go there and ask the staff what are the next steps. One guy explains me in a very bad way that my Covid certificate is not valid because the time difference from when I took it and the entrance to Bosnia is greater than 48 horus… no shit!
Great! He explains me that I have to cross the border, go through custom and find the medical center in the airport to get a new Covid test. My nose is gonna get raped again, damn!
I go to customs, no-one there, just me and the police officer. He asks me many questions: what are you going to do here? How long are you going to stay? How much money do you have?
My response was: "I just need a Covid test so I can flight to Bosnia, please let me in!". He looks at me, proceeds to tell me to take my mask off so he can see my face (do I look like a terrorist? it could be!) and he stamps the passport. Yeah! I'm in Turkey!
This is a huge airport and following carefully the instructions I was given by the plane company staff member I manage to find the medical center. Covid test price: 30€ (In France it was free, thank you Franch people for paying your taxes!) The nurse explains me it could take up to 3 hours to get the result.
To spend some time there I go outside the airport, to the parking lot. I call my family for a moment and enjoy the "view" of Istanbul. No much happened there, it's time to go inside and get the results. I found a spot with free internet to check it. I got nervous as in France, what if the test is positive? Will I stay in Turkey till I feel good to travel again? Interesting adventure… but it turned out the test is negative, I can move on.
December 31st 2020, 9:00pm, new year is coming and I'm at the airport waiting for the next plane to take off.
I'm at the other side of the world, by myself, in a place I've never been before, I can say that this is going to be the most bizarre and strange new year's eve I will go through.
I'd like to get something to celebrate but something non-alcoholic. No local currency in my pockets, let's go to exchange some euros. I have no idea what's the exchange rate, so I change only 10€ to check. They give me around 80 Turkish Lira (I just check the exchange rate now and I'd get 160 Turkish Lira for 10€). Nice, let's get something to drink now, what could it be?
There's a kiosk at the end of the hallway, I decided I'll get a Coca-Cola and a Sprite as a backup and some sweet snack as desert. When leaving it, we shared a "Happy new year!" with the kiosk employee . My dinner is going to be two imported pork sandwiches from France (I made them the morning before taking the plane to Istanbul, of course) and the drinks. I got stuffed after the second one, time to rest a little bit.
The airport is amazing, the infrastructure, the lights, everything. I take few walks around to make time. My phone is running out of battery, I need to find a socket to charge it and I did. I plug it in, let it charge there while using the laptop to read something about distance galaxies and how scientists do to discover and analyze them (NEEEEERRRDDD!!!)
Istanbul airport has been awarded as the best airport in Europe: https://www.istairport.com/en/announcements/airport-of-the-year-award-to-istanbul-airport
11:59 pm, phone is fully charged, my family is calling me to wish me happy new year. I'm laying on two chairs, I can see no more than 7 people roaming around the airport.
12:00 am, HAPPY NEW YEAR! 2021 has arrived and I'm here, not stranded but it feels like. Amazing start of the year!
The plane is taking off at 9:00am, I try to sleep but the chairs are so uncomfortable, using my backpack as pillow and a jacket to cover myself, couldn't sleep not even a single hour, shit happens.
7:00 am, I head to do the check-in, it's full of people and they just announced the flight is going to be delayed at least for two hours because there's a big mist in Sarajevo and the plane won't be able to land. Time to spend some time in a coffee shop, enjoying a good Turkish coffee and browsing the web on my laptop.
10:30 am, going back to do the ckeck-in, the staff member says I won't be able to do it because the time for it passed. I explained her that they delayed the flight that's why I'm coming now. Few more people behind me are complaining about the same (damn, am I gonna lose the flight?). The staff consider our situation and she went ahead and did the check-in for all of us. Ready to go!
Going through customs again, getting all my things off me and putting them in small baskets. I have to take my things out of the backpack and put them in the baskets. Two laptops, headsets, weapons, knives, drugs, everything! (no, no drugs, weapons nor knives, I promise!). Great, I'm in the transit area, I'm looking for the gate. Walking around 10 minutes and I find it, full of angry people because of the delayed plane. I mean, the plane was there, ready to be boarded but the weather conditions were not good yet at Sarajevo.
Around 11:45 they proceed with the boarding. Before going on board, I share a coffee with a guy there, never seen him before but he was nice. We talked a little bit and we went to the gate to board the plane.
Finally in the air! The flight took less than 2 hours. I can see Sarajevo from here when suddenly the Captain talks on the speakers: "Hello passengers, this is the captain, we won't be able to land in Sarajevo because the mist is very thick, we are going to land in Tuzla". Damn, but what can I do? Take a parachute and jump off the plane? Good idea, but no parachute in sight.
---
Tuzla
Two police cabins in customs and we were around 100 passengers. I'm almost the last one in the line. My turn has come, I'm a little bit nervous. The police asks me what am I doing here, why have I chosen Bosnia as my place to stay few months and few more questions. I explain him I'm here because of the French visa expiration, he calls a superior and I'm getting more nervous. Shit, they could reject me and I'll be back at Istanbul.
They didn't, the superior comes and I explain him I'm here because I had to leave the European Union. He was cool with that and let me in, no need to show him where I'm going to stay, how much money I had, insurance, nothing, all good.
I'm in!
Sarajevo is still far away, how are we going to get there? A police man approaches us and he explains a bus is coming to pick us up and take us to Sarajevo. But we have to pay for it, 50€. Nah, just kidding, it's all covered by the flight company.
After an hour, the first bus comes, people rushing to get into it but few of us couldn't get into it, no more available seats. The same police man explains that another bus is coming for the rest of people. Finally it arrives! After 30 minutes! We put our things in the trunk, get into the bus and here we go Sarajevo!
---
Sarajevo
Tuzla is 120km from Sarajevo but in mountain road it could take over 2 hours easily. Indeed, over 2 and a half hours later, we are at Sarajevo International Airport. In the bus I was exchanging messages with Kerim, he's the AirBnB owner of the place I've rented for January. He's going to be waiting for me at the airport, amazing service!
I jump into the car and we are heading to the apartment. He's showing me the city, even though is dark as hell (it was around 7:00pm) but I managed to understand everything. He also explains me that I should be careful if I take the tram because the guards could request my passport but they don't have the power to do so, but do it either way and they won't give it back. Yeah, I won't take a tram, not even close.
He opens the apartment door, explains me how everything works in it and he gives me the key. He points few places of interest in the city that I should visit and he leaves the place.
I've never been so happy of seeing a bed, I'm so tired, thirsty and hungry. I cannot think about getting something to eat right now, I get some water from the tap and I go directly to bed. Time to rest as much as I can, tomorrow will be a new day.
This is the end folks! I hope you enjoyed it!
PS: don't worry, I'm writing some more stories!
---
You can read my travel from Bosnia to Serbia here: https://ldeazevedo.com/2021/12/27/bosnia-to-serbia/